Shardeum is a Layer 1 public chain and an EVM based sharded blockchain with unlimited scalability, true decentralization, and reliable security. It's designed to introduce billions of users and numerous DApps into Web3. Shardeum, like an open, collaborative, and community-driven Internet, will democratize decentralized accessibility. It will also become the infrastructure for the next iteration of Web3.
Vision of Shardeum
Shardeum is aimed to make the "impossible trinity" possible. The vision of Shardeum is to achieve infinite scalability, true decentralization, and solid security, bringing everyone into the decentralization ecosystem. At present, Shardeum is trying to solve the scalability questions with dynamic state sharding. In fact, sharding is a particularly complex and challenging solution, including computing sharding, consensus sharding, storage sharding, network sharding, etc. Each sharding exists on a different layer, so how to solve the problem of mutual integration is the key.
Shardeum has designed a novel architecture which they call dynamic state sharding technology. When the TPS (transactions per second) in the network surges, this architecture automatically expands and increases shards to make sure that the gas fee is kept low infinitely. The automatic sharding technology increases and decreases shards without the intervention of third parties or developers, which greatly eliminates the frictions in the current sharded blockchain.
Token distribution
With a total supply of 508 million, SHM tokens are distributed as follows:
Node: 51% – Rewards for nodes, validators, archives and backup servers
Sale: 18% – a 3-month cliff followed by 2 years of linear vesting
Team: 15% team – a 3-month cliff followed by 2 years of linear vesting
Foundation: 11% – unlocked at TGE
Ecosystem: 5% – unlocked at TGE
According to Shardeum roadmap, SHM, its native token, will be issued and offered publicly in Q1 2023.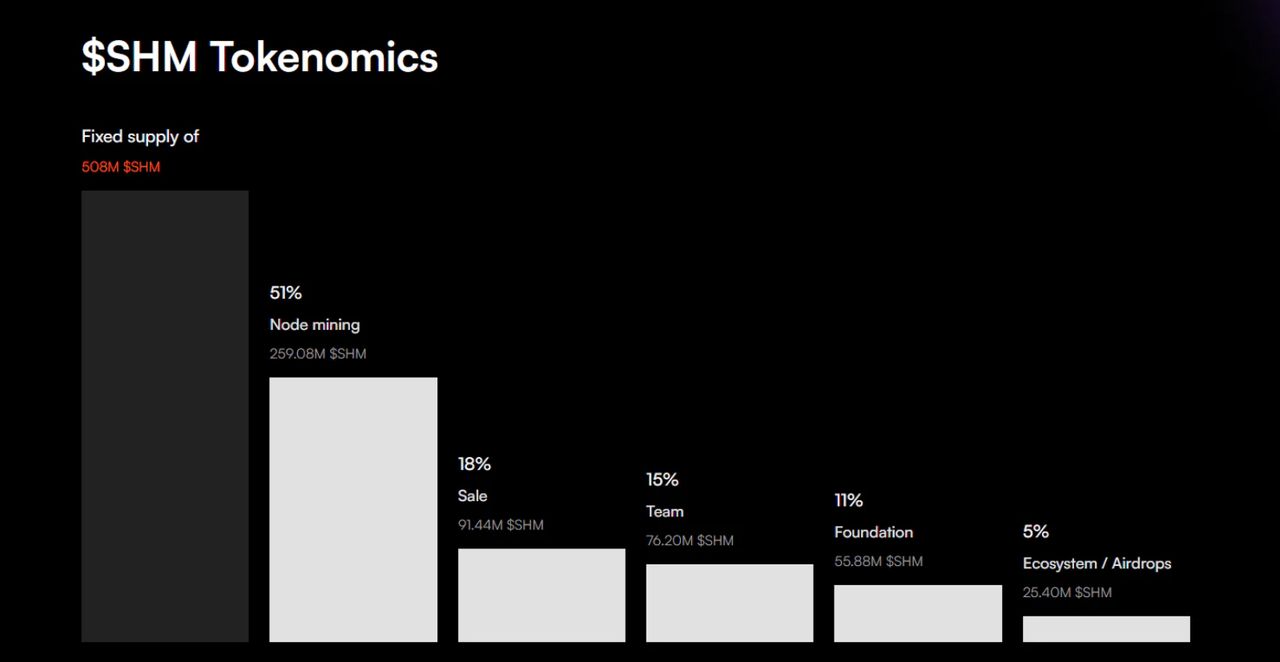 The Impossible Trinity in the blockchain industry consists of scalability, decentralization, and security. The word "Impossible" means you simply cannot have all three in a single solution. First of all, security is something you can never compromise on, so you can see that most blockchains today have to choose between speed and decentralization. Not long ago, Vitalik Buterin, the co-founder of Ethereum, said that most blockchains today are forced to make compromises and choose between scalability and decentralization (while security is a must). For example, when Bitcoin and Ethereum compromise on speed (or throughput), Layer 2 chains may compromise on decentralization. Take Bitcoin, as a decentralized crypto currency, it sacrifices performance to meet the design requirements of decentralization and security.
Financing
Shardeum announced in October 2022 that it had received US$18.2 million in the first round of seed financing. More than 50 investors joined in this round, including Jane Street, Struck Crypto, The Spartan Group, Big Brain Holdings, DFG, Ghaf Capital Partners, Foresight Ventures, CoinGecko Ventures, Wemade, ZebPay, Jsquare, MH Ventures, Nestcoin, Veris Ventures, Tupix Capital, Mapleblock Capital, and NetZero Capital. A number of influential angel investors also participated in the round, including Balaji Srinivasan, Mayur Gupta (CMO at Kraken), Michael Montero (Co-founder at Resy – Acq. American Express and co-founder at CrowdTwist — Acq. Oracle), Pankaj Gupta (Vice President Engineer at Coinbase), Harsh Rajat (Co-founder of Push Protocol), Nakul Gupta (Chief PM, Coinbase NFT Marketplace and Institutional Partnerships), Ajeet Khurana (Founder of Reflexical), Ravi Adusumalli (GP of Elevation Capital), Rohan Chauhan (Digital Assets Division of Hudson River Trading), Ganesh Swami (Co-Founder of Covalent), and Kashif Raza (Founder of Bitinning).
Bitget Wallet (Previously Bitget Wallet (Previously BitKeep)) has connected to the Shardeum testnet and made a Faucet available for our users to get test coins and interact with the Shardeum ecosystem. Bitget Wallet (Previously Bitget Wallet (Previously BitKeep)) is also paying close attention to this new star. We will support the Shardeum mainnet as soon as it launches. According to our plan, there will be Gas airdrops and a dedicated Shardeum Dapp section introduced in the near future for users to better experience the Shardeum ecosystem.