How to buy crypto
1) P2P Trading
After registering a Binance account and completing the KYC verification, tap "P2P Trading" on the home page. Choose the fiat currency you'd like to spend in the upper right corner, then go back to read the Risk Notice, tap confirm, and choose one of the merchants showing "Buy" to make the purchase.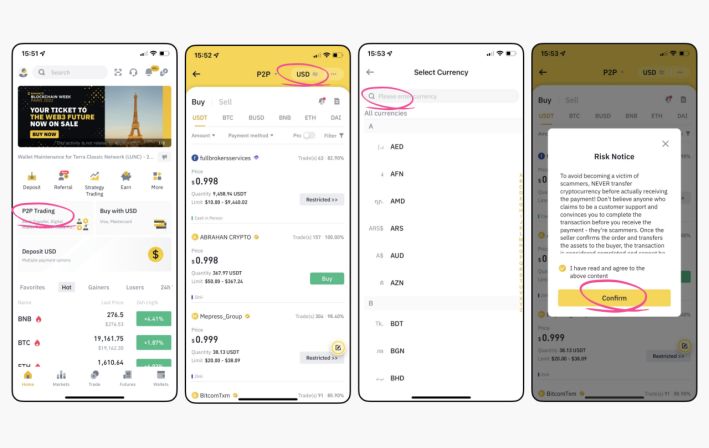 2) Credit card
After registering a Binance account, tap "Buy with USD" on the home page. You can choose to buy crypto with your Visa or Mastercard card. Now search for the crypto you want to buy (taking BUSD for example). Tap "BUSD" and enter the amount, then follow the prompts to pay with your credit card.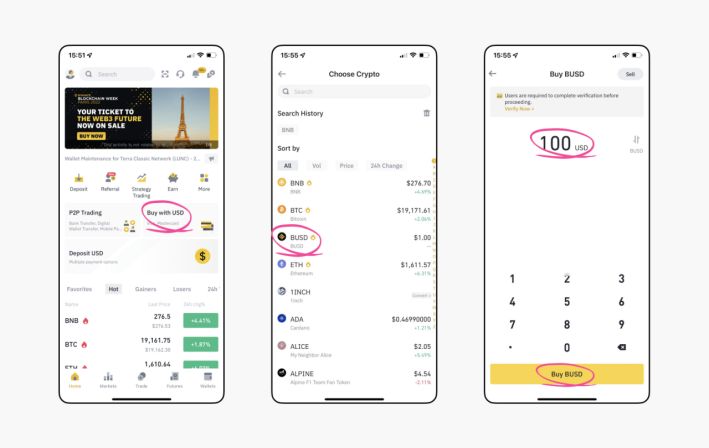 How to withdraw cryptos to my BitKeep wallet (taking USDT as an example)
Choose a crypto
Launch the Binance App, go to "Wallet" > "Spot" > "Withdraw", choose the token you want to withdraw; USDT, for example. Tap "Send via Crypto Network".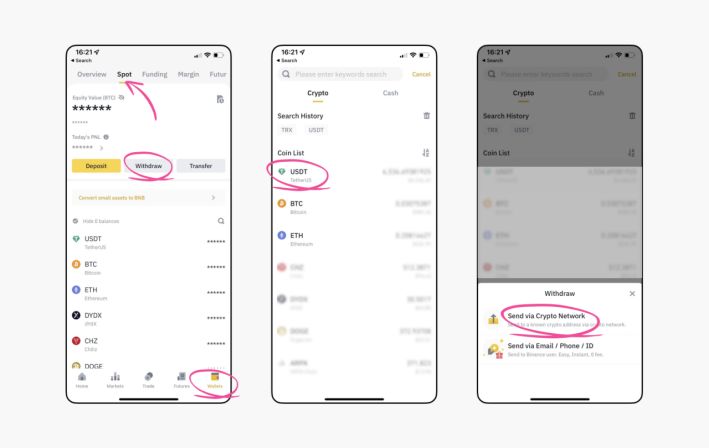 Fill in the transfer information (be careful to choose the right network)
With the Binance App, you can withdraw USDT from 7 networks: BEP20, AVAX-C-Chain, BEP2, ERC20, Polygon, Solana, and TRC20. BitKeep supports all of them but BEP2. It's suggested that you withdraw USDT on BEP20, Polygon, and TRC20 because the gas fee is relatively low on these networks (≈ 1U).
If you want to withdraw tokens to access DApps with BitKeep wallet, choose the network according to the DApps you'd like to interact with. For example, the DApp you're interested in is only deployed on BSC, then you'd better withdraw USDT on BEP20.
Let's taking withdrawing USDT on TRC20 for example:
1) When you're in the page to fill out your information, you need to go to BitKeep App first to get your receiving address. In the BitKeep App, switch the mainnet to TRON, and tap the copy icon next to the address to copy your TRON address;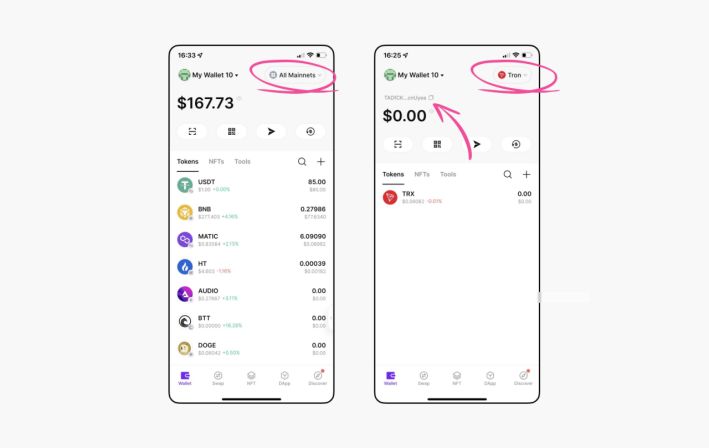 2) Now go back to Binance App, paste the BitKeep wallet address, fill in the Network and the Amount, then tap "Withdraw" > "Confirm" and enter your password.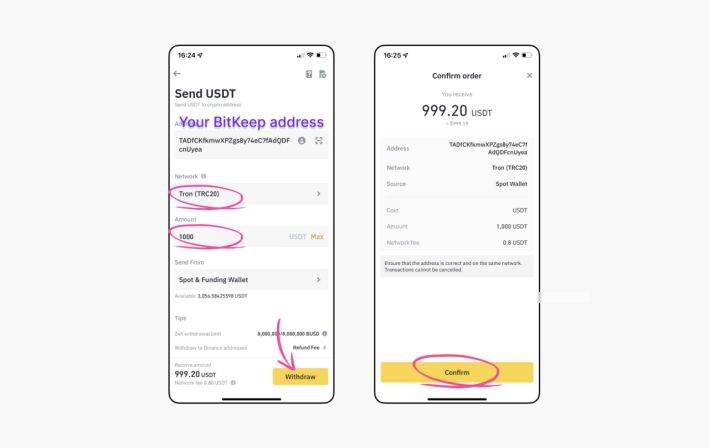 Note:
When you are making a transfer, you need to pay the gas fee in a specific coin. Make sure you have enough of that coin before you initiate the process.
You'll see a page saying that your withdrawal is successful after a while, then you switch to BitKeep to check out the token you've just withdrawn. Now you can swap to other tokens and access different DApps with BitKeep.