On October 19, Aptos announced that it will give away more than 20.076 million APT airdrops and distribute them to more than 110,000 community members. Participants can claim about 150 APTs for completing the incentive testnet application and 300 APTs for minting NFTs accordingly.
At present, according to BitKeep market quotes, the 24H APT price is trading at $7.55, which means each eligible account for the airdrop is worth $1100 ~ 2200, an extremely generous reward! Did you get it?
Whether you have claimed it or not, you can now cut through the noise and follow BitKeep to learn about APT's tokenomic model and its schedule. This will be of great reference value regardless of your preference to invest in APT.
In addition, BitKeep also launched a mini-game targeting the Aptos ecosystem – "Super Aptos", allowing users to claim Gas Airdrop for free and tour the Aptos ecosystem pleasantly. Tap the link to join us: https://blog.bitkeep.com/en/?p=2544
APT token distribution
The initial total supply of APT is 1 billion tokens. APT will have 8 digits of precision as part of the fraction where the minimum unit is called an Octa.
Distribution:
51.02% allocated to the community, 510217359.767;
16.5% allocated to the foundation, 165,000,000;
19% allocated to key contributors, 190,000,000;
13.48% allocated to investors, 134782640.233.
Community and foundation
Community (51.02%) and Foundation (16.5%) shares will be allocated explicitly to ecosystem-related projects such as donations, incentives, and other community growth initiatives, some of which have been assigned to projects developed on the Aptos protocol, and will be awarded when the projects complete specific tasks.
The majority of these tokens (410,217,359.767) are currently held by the Aptos Foundation, and a small portion (100,000,000) is held by Aptos Labs, which is expected to be distributed over a ten-year period.
Simply put, 51.02% of the community share does not really belong to the Aptos community, but is essentially dominated by the Aptos team. It has been officially stated that these tokens will be used to promote the growth of the Aptos ecosystem.
A detailed plan for lock-up and circulation is as follows:
In terms of community, 125 million APTs enter circulation at the time of creation and can be used for ecosystem support, donations and other community growth plans;
In terms of foundation, 5 million APTs will also enter circulation at the time of creation, which can initially be used to support the plans advocated by the Aptos Foundation;
In the next 10 years, the remaining tokens of the community and the foundation will be unlocked month by month at a rate of 1/120 of each month.
Key contributors and investors
The shares of key contributors (19%) and investors (13.48%) will be fully locked for 1 year and distributed in the next 3 years. The specific plan for lock-up and circulation is as follows:
In the first 12 months after creation, no shares from key contributors and investors will enter circulation;
From the 13th to the 18th month after the creation, this part of the tokens will be unlocked month by month at a rate of 3/48 of each month;
From the 19th month after creation, the remaining tokens will be unlocked month by month at a rate of 1/48 of each month.
Estimated timeline to unlock tokens
At present, more than 82% of the tokens have been staked on the Aptos network. These tokens belong to multiple entities, which means, most of the tokens are currently locked and have not entered circulation (but can be staked) according to the distribution plan mentioned above.
Investors can get instant rewards by staking locked tokens. Both unlocked (distributed tokens) and locked (non-distributable) tokens can be used for staking rewards. The rewards are not locked and can be circulated instantly. Undoubtedly, this will benefit project teams and VCs, since more than 82% of tokens are currently staked.
At present, the APT staking reward base is 7%, and the reward percentage will decrease over time, by 1.5% per year, up to 3.25%.
The estimated timeline to unlock provided by Aptos is as follows: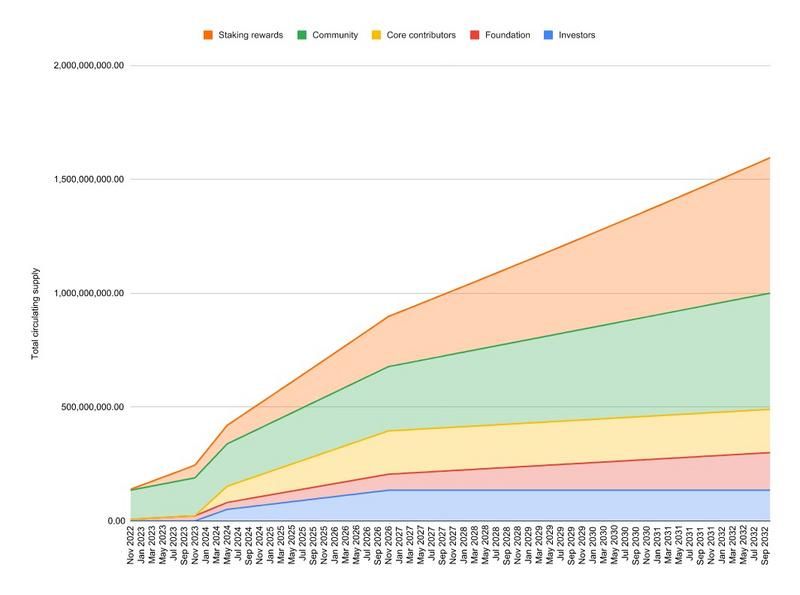 In addition, Aptos explained how staking could affect the total supply of APT tokens.
For the purpose of safeguarding networks and reaching consensus, APT holders can stake their tokens to validators and receive staking rewards while these rewards are distributed among validators and stakeholders.
Currently, the maximum rate of rewards (APY) for network staking is 7%, and this number will decrease by 1.5% every year until it drops to 3.25%.
The existence of staking rewards will increase the total supply of APT, and the change is related to the total amount of staked tokens and the overall operation of the validated node.
The transaction fees on the mainnet will be burned temporarily, but the use of this part of the token may change in the future with the decision of on-chain governance.
All reward mechanisms can be modified through on-chain governance.
Opening circulation: 13%
According to official statements, 130 million tokens were circulated, or 13% of the total supply. Among them, 125 million came from the communities, and the other 5 million were from the foundation. Up till now, APT's circulating market value is about 990 million US dollars, with a total market value of $7.5 billion, ranking 55th in the global market value, and the 24H transaction volume is about $630 million.
The above is everything you need to know about APT tokens summarized by BitKeep. As for the future market trend of APT, you also need to follow the long-term development of the Aptos ecosystem to see if it can bring glory and add a strong touch to the world of Web3.