The Aptos mainnet went live on October 18 and the number of projects built on Aptos has exceeded 300, including DeFi, infrastructure, games and tools. More than 100 NFT projects are expected to be launched and it is evident that the Aptos ecosystem is thriving.
In order to facilitate the development of Aptos ecosystem and provide users with a smooth experience, BitKeep has accepted the Aptos mainnet and forged partnerships with more than 30 projects in the Aptos ecosystem.
In addition, 【Aptos ecosystem zone】 has gone live on the DApp page of BitKeep. In addition, BitKeep has launched a mini-game based on the Aptos ecosystem–"Super Aptos", aiming to help users gain a pleasant experience of the ecosystem and win rewards. Tap the link to join us:https://blog.bitkeep.com/en/?p=2544
The ecosystems of new public chains are like gold mines to be explored and more than 200 DeFi, NFT and gaming projects are expected to be deployed in the Aptos mainnet by the end of October. BitKeep Academy has picked pilot projects from the three sections mentioned above and we aim to help you enjoy the Aptos ecosystem and win airdrop rewards!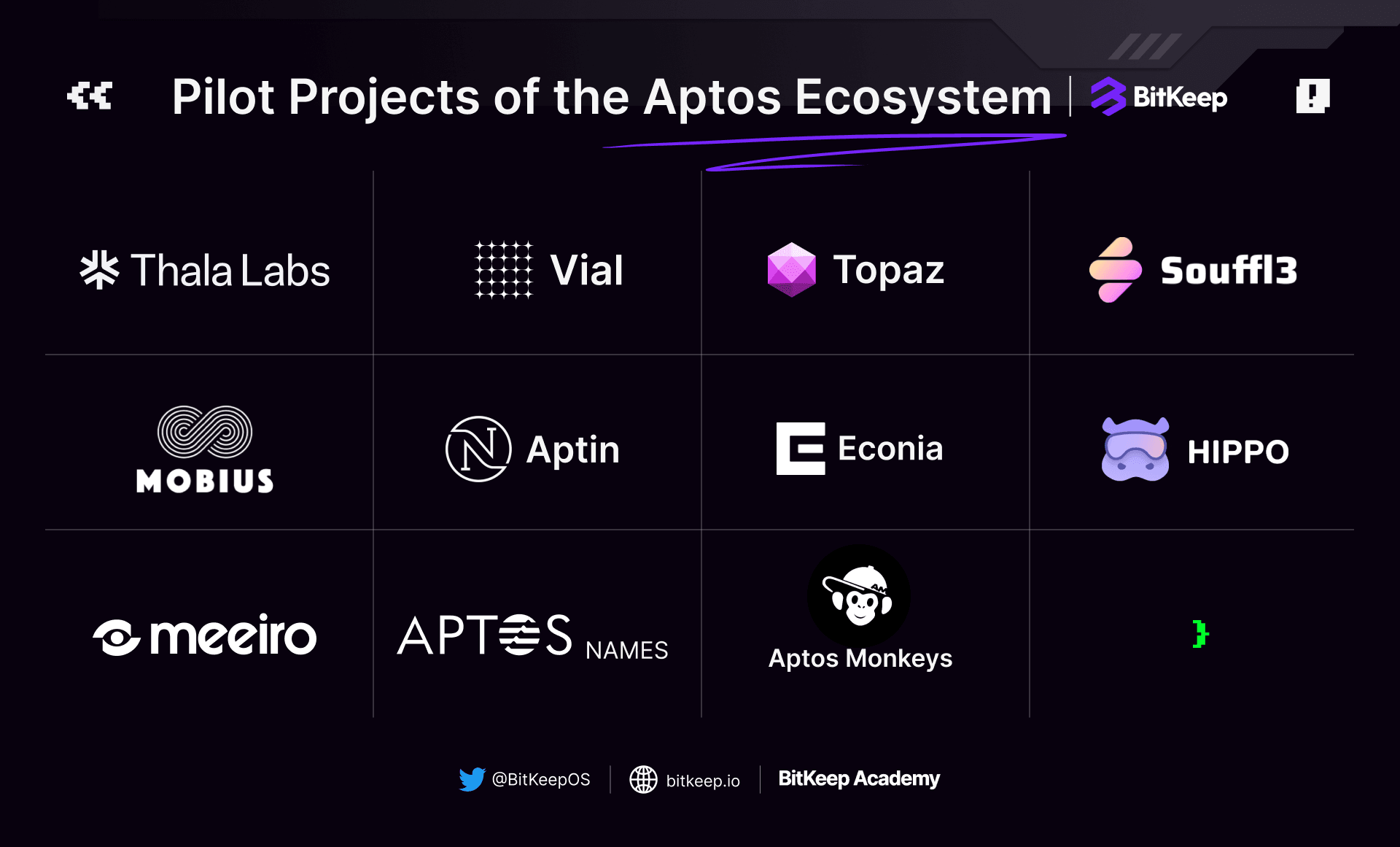 DeFi
DeFi is the mainstream application for the Aptos ecosystem and can be divided into these fields: stablecoin, DEX, aggregator, IDO, lending and borrowing, asset management, derivatives and liquidity staking, etc.
Stablecoins
In terms of stablecoins, Thala Labs (https://www.thalalabs.xyz/) is currently the most popular stablecoin project in the entire Aptos ecosystem. It will launch the over-collateralized stablecoin Move Dollar (MOD) and develop other products at the same time to boost the application of MOD on the Aptos blockchain.
Twitter:@ThalaLabs
Lending and borrowing
In terms of lending and borrowing, the following projects are being built in the Aptos ecosystem: Vial Protocol(https://www.vial.fi/), Mobius(https://mobius.market/), Njord Finance, Aptoslend, Ultima protocol and Aptin(https://app.aptin.io/). Till now, products under tests of Vial Protocol, Aptin and Mobius have gone live.
The interaction of Vial Protocol is relatively simple, and its mode is almost the same as Compound, Aave, etc. Users can deposit and lend test tokens such as APT, BTC, USDC, etc. on the platform. APT can be directly claimed in the BitKeep wallet while BTC and USDC can be collected from the Faucet on the interface.
Twitter:@vialprotocol
Mobius applies the same interaction method as Vial Protocol and it has been successfully deployed on the Aptos mainnet.
Twitter:@protocol_mobius
Aptin is a decentralized platform for lending and borrowing. It has been activated on devnet and testnet and its mainnet is to be launched after code verification. Users are able to easily borrow, lend and earn digital assets with the support of Aptos.
Twitter:@AptinLabs
DEX
In the field of DEX, projects that are currently built in the Aptos ecosystem include Liquidswap(https://pontem.network/liquidswap), 1KX Protocol(https://1kx.exchange/), Econia(https://www.econia.dev/), Hippo(https://hippo.space/), Empo Finance, Hanson and Laminar Market(https://laminar.markets/), etc.
Liquidswap is an early bird in the Aptos ecosystem and has released its products under test in an early stage; 1KX and Saber originate from the ecosystem of Ethereum and Solana and both of them now support Aptos.
Twitter:@PontemNetwork, @1kxprotocol, @Saber_HQ
Econia (https://www.econia.dev/) is an ultra-parallel DEX built on Aptos, the first real-time order book on Aptos. Its V2 version was launched on August 9th and the project is iterating rapidly. With high concurrent transactions of the MOVE language, it has the potential to capture more liquidity on Aptos in the future.
Twitter:@EconiaLabs
Hippo(https://hippo.space/)is a DeFi product built on Atpos that provides users with the best exchange rate via aggregating liquidity. It is a well-known DEX and is similar to 1inch. The product is available for use and partners with Aptos closely.
Twitter:@hippolabs__
IDO
The aggregator projects on Aptos include OrionLaunch, Meeiro(https://meeiro.xyz/), Aptos Launcher(http://aptoslauncher.com/) and Meeiro has launched a token named MEE. The community of Aptos Launchpad has gained considerable attention.
Twitter:@OrionLaunch, @Meeiro_xyz, @AptoslaunchIO
Derivatives
Current projects that are being built in the Aptos ecosystem include Tsunami Finance(https://tsunami.finance/), Aries Markets(https://ariesmarkets.xyz/)and Clone Protocol while none of them have been deployed in the Aptos mainnet. Tsunami Finance is gaining considerable attention on Twitter and has numerous partnerships; Aries Markets has launched its product for testing: https://app.ariesmarkets.xyz/; No progress has been reported from Clone Protocol yet.
Twitter:@TsunamiFinance_, @AriesMarkets, @CloneProtocol
Asset management
Seam Money(https://www.seam.money/)and Solrise(https://solrise.finance/)are two pilot projects for asset management in the Aptos ecosystem. These two projects originate from Celo and Solana respectively, while none of them have been deployed in the Aptos mainnet.
Twitter:@SeamMoney、@SolriseFinance
NFT
The NFT projects built on Aptos can be temporarily divided into these categories: listing, trading, lending and borrowing. There are also some collections and DNS that center around pfp.
Platforms
NFT platform projects that are currently being built in the Aptos ecosystem include Topaz (https://www.topaz.so/), Souffl3 (https://souffl3.com/), Wav3 (https://wav3.net/) ,etc. Topaz and Souffl3 have both launched their products, and the NFT service platform Wav3 has reached a strategic partnership with Souffl3.
The way to interact with Topaz (https://www.topaz.so/) is similar to that of OpenSea, and our special release will provide detailed tutorials separately. It is worth mentioning that there are currently numerous NFTs listed on Topaz while only the top 12 NFTs have floor prices, and the top project is Aptos NPC. Topaz will also launch a Launchpad page, which currently allows artists and community builders to make applications, and will later allow collectors to discover the latest and upcoming series of NFTs.
Souffl3 (https://souffl3.com/) is one of the most popular NFT platforms in communities and it was launched on the Aptos mainnet on October 18th. The Souffl3 homepage showcases popular NFT series, and also launched Souffl3 Launchpad, an NFT publishing platform for NFT creators and artists. It also released a page for users to discover the upcoming NFT series.
Wav3 (https://wav3.net/)is an NFT service platform that hasn't gained much attention and has currently issued its token named WAV3.
There are also NFT lending platforms such as BlueMoveNFT (https://bluemove.net/). BlueMove has released the token economics, Move, with a total supply of 300 million pieces, of which 5% will be airdropped to users (one-off release), 15% will be allocated to staking rewards, 40% will be used as transaction rewards, and the founding team will get 15%. The main purpose of the MOVE token is to reward users who stake MOVE, and investors can receive transaction fees from the NFT market. Users can collect gas fees through MOVE or APT/SUI, and make rewards and payments on a daily basis.
Twitter:@TopazMarket、@nft_souffl3、@aptos_wave
Collection
There are also numerous collection-oriented NFT projects in the Aptos ecosystem, such as Aptos Ape Society (https://aptosapes.xyz/), Aptos Toad Overload (https://aptoads.io/), Token Masks Labs, Aptos Monkeys (https://aptoads.io/) ://www.aptosmonkeys.club/), The Uglies NFT (https://www.theuglies.art/), Aptos Girls, etc. Most of these projects will not be released until the Aptos mainnet is officially launched.
It is worth mentioning that Aptos Ape Society (https://aptosapes.xyz/) is a pixel monkey-style NFT. The animation team is from Gucci & PBS, and has been followed by HC, head of the Aptos ecosystem. Aptos Ape Society has gained considerable attention among NFTs of Aptos.
Aptos Elements is a cc0 NFT with increasing community popularity and it is worth following.
Unicornses on APTOS (https://www.unicornses.com/) is a unicorn NFT built on 1000 Aptos. The community is quite vigorous and it is worth following.
However, we don't recommend that you invest too much in these projects in the early stages of the ecosystem, given that the value of these projects requires support from a large number of communities.
Twitter:@AptosApeSociety、@Aptoads、@TokenMasksLabs、@AptosMonkeys、@Ugliesonaptos、@UnicornsesNFT
DNS
Aptos Name Service is currently the only project that focuses on DNS in the Aptos ecosystem.(https://www.aptosnames.com/)
Aptos Name Service can be considered ENS in the Aptos ecosystem. The interaction mode is to connect the wallet first, and then enter your preferred domain in the search box. ANS has opened the registration of domains with 3 characters and above. Currently, it only supports registration with a 1-year rental period, and a longer registration period will be enabled in the future.
In terms of fees generated, a 1-year rental for a three-character domain costs 80 APT, a four-character domain is 40 APT, a 5-character domain is 20 APT, while 6-character and above is 5 APT.
Gamefi
Aptos Game is the first Play to earn and Free to earn game built on Aptos. At present, it has gained the highest popularity on Twitter in the field of Aptos games and has received many retweets of Aptos ecosystem-related projects.
Aptos CODM is the first online shooting game with multiplayers on Aptos. The project has a combat Demo, which is much faster than other games. The game mode is similar to the battlefield and players can get a taste of real combat scenarios.
Lamdamoon (https://lamdamoon.xyz/) is a high-end 3D NFT game built on Aptos/Polkadot and Unreal Engine 5, and it is the first premium game on Aptos.
Twitter:@Aptosg25ame、@AptosCODM、@lamdamoon_verse
After the mainnet is launched, the projects mentioned above may speed up the process of deployment on the mainnet and issue their own tokens to reward users who contribute to the development of their projects in the early stage. Therefore, you can access the BitKeep DApp page 【Aptos Ecosystem Zone】 to give a try, and you are more than welcome to participate in the "Super Aptos" event launched by BitKeep to claim the earliest bonus in the new public chain ecosystem.